Stay Ahead of the IT Maintenance Curve with Automation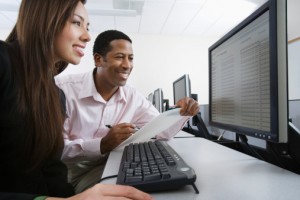 What if your IT administrators didn't have to spend 75% of their time keeping systems running? What if they didn't have to worry about monitoring systems, installing updates and patches, provisioning, and performing other maintenance and support tasks?
By having a partner to help perform those tasks, your IT administrators could actually work on business technology initiatives that would make a difference in your business — and your bottom line.
With Arisant Managed Services, you can have highly qualified, US-based Oracle experts partnering with you to support not just your systems but also your individual business requirements. They can work on-site or remotely.
To keep your systems running optimally, our experts come armed with the latest tools and technologies, including Arisant's exclusive Polaris infrastructure monitoring and alerting software.
Monitoring 2.0
Just as Web 2.0 marked a fundamental change in Internet technologies and the way people use them, Monitoring 2.0 marks a fundamental change in monitoring and alerting technologies and the way companies use them. Monitoring and alerting software is moving from being simply reactive to being proactive.
Polaris is at the forefront of the Monitoring 2.0 movement. Polaris provides more than just non-stop remote monitoring and alerts for your IT infrastructure. It also proactively "self-heals" systems when it detects problems. Its self-healing features can resolve issues before they cause problems or outages.
Polaris monitors Oracle databases, operating systems, and applications 24x7x365 using its rules-based engine. Its monitoring and alerting capabilities and self-healing features work out-of-the-box, but the Arisant Managed Services experts or your IT team can add customized monitoring in minutes.
Besides using its monitoring, alerting, and self-healing capabilities, you can take advantage of Polaris's extensive reporting and analytics to identify trends and meet service level agreements. You can also leverage its integrated capacity-planning capabilities to assist you with planning upgrades.
Gain peace of mind
By taking advantage of Polaris and the experts at Arisant Managed Services, you can have peace of mind knowing that your full infrastructure will be proactively monitored, maintained, and supported 24x7x365. Issues will be resolved before they become problems that get out of hand. Plus, your IT team will have time to focus on the important task of addressing new business requirements.