Goal: Don't Just Survive a Disaster — Fully Recover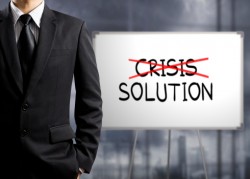 September is National Preparedness Month, a time set aside for individuals and businesses to figure out how they will respond if an emergency happens. Many organizations will be reviewing their business continuity plans with care, especially given the particularly stormy and disaster-ridden year.
Business continuity plans often discuss how to recover from disasters such as storms, fires, and floods. But today, enterprises need to have a broader definition of "disaster," including data corruption, bandwidth and connectivity issues, and cybercrime attacks. These everyday disasters can present a risk that's just as great as a storm or fire.
The importance of data availability
An important part of business continuity planning is making sure your critical business data is available after a disaster — and that data must be quickly accessible on different types of devices.
According to a 2010 AT&T Business Continuity Study, 77% of organizations call for the use of mobile devices in their business continuity plans. Further, 73% of organizations plan to let employees work from home or another remote location if disaster strikes. These employees need to be able to access company data from those locations.
Nowadays, data availability depends on more than simply backing up data onto a storage medium and storing the backed-up data in a safe, off-site location. Today's complex business needs require 24/7, year-round continuous operations. This means that redundant hardware and software systems must be available in geographically dispersed locations and large amounts of data from multiple, disparate sources have to be replicated in real time to these remote secondary systems in a way that disruption in service is minimal or zero.
Setting up and configuring a redundant hardware and software architecture in a remote location is one challenge; building an architectural solution that allows for continuous replication of enterprise data is a whole different problem. The variety of data replication and data integration tools available in the market today makes it quite difficult to compare and contrast in order to make the right choice.
Gartner has identified functional capabilities that data integration tools should provide to deliver optimal value to organizations. They include the ability to:
Interact with different types of data structures, including relational and non-relational databases.
Support different modes of interaction with the data structures, including change data capture.
Transform data.
Ensure the quality of the data being integrated.
Deploy data integration processes on different types of hardware and operating systems.
Is it possible to find a solution that is agile enough to meet all these requirements? Oracle GoldenGate provides a comprehensive solution for complex, real-world enterprise environments. Besides supporting data replication for Oracle databases, GoldenGate supports other databases, including Microsoft SQL Server, Sybase, and IBM DB2.
An optimal data availability and data integration tool
Enterprises need to make sure that the data in their mission critical systems is integrated and always available, even after a cyberattack or another type of disaster. However, a 2014 survey conducted by Database Trends and Applications Magazine reveals that traditional data backup and recovery solutions aren't up to the job.
In the survey, 200 Oracle IT professionals were interviewed about various aspects of their database backup and recovery strategies to identify the top challenges for protecting data. The results show that:
The top problem is backup operations being too slow, resulting in prolonged backup windows.
Furthermore, backup operations degrade the performance of production systems and need constant management.
The top problem with recovery operations is that they're too complex.
Little data is being protected in real time.
Not surprisingly, the predominant data protection method among the survey participants is the traditional backup. They conduct a full backup once a week, with daily incremental backups, or they conduct full backups daily.
A much more efficient and effective data protection method is data replication. Oracle GoldenGate provides real-time replication of data in just about any configuration, including support for heterogeneous systems. It supports unidirectional, bidirectional, peer-to-peer, broadcast, consolidation, and cascading topologies. And with data replication, you don't have to worry about slow backup operations that hurt system performance and need constant handholding.
In addition to protecting their data, enterprises need to make sure that their data maintains its integrity throughout all operations. This is essential not only for usability (especially in a recovery situation), but also for regulatory compliance.
GoldenGate also addresses this requirement with the available Veridata module, which identifies data corruption and lets you manually correct it. With Veridata, you always know the data you have in your backup is data that can restore your business operations.
Be prepared
Preparedness today isn't just about having a backup. It's about having complete, up-to-the-minute business information that's accessible and usable instantly. Are you ready to not only survive a disaster, but get your business back up and running quickly?
Is your disaster recovery plan in need of an update? To learn about options that will improve your organization's recovery time, contact Joe Wilson, Senior Sales Executive, at 303-974-7582 or by email at
Joe.wilson@arisant.com
.