Is Your Business Lost in the Cloud?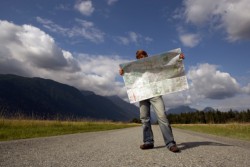 Some people see the cloud as something that benefits large enterprises, but not really small to midsized businesses (SMBs). However, that simply isn't true. SMBs often have the most to gain from cloud computing.
In the past, SMBs often didn't have the financial means to take advantage of the resources that their large competitors used. But that is changing, thanks to cloud computing.
Without having to make large capital investments, SMBs now have access to
enterprise applications. SMBs can use enterprise resource planning (ERP), customer relationship management (CRM), automated billing, and other cloud-based applications that can help them better manage all facets of their businesses.
big data analytics. SMBs can analyze large amounts of structured and unstructured data in the cloud to gain insights to grow their businesses.
state-of-the-art hardware and technologies. SMBs can run their businesses using scalable cloud-based infrastructures that feature fast servers, virtually unlimited storage, and high-tech networking equipment.
sophisticated security systems. SMBs can keep their data and IT assets safe by using advanced security solutions in the cloud.
SMBs are beginning to realize all that they can gain by going to the cloud. According to an Intuit study, 37% of U.S. small businesses are currently using cloud solutions, but that percentage is expected to jump to 78% by 2020.
While it's easy to understand the benefits of cloud computing, the same can't be said about developing a cloud strategy. Cloud computing is not a one-size-fits-all solution. There are several different types of clouds and many different types of services you can use in them.
The different types of clouds
There are basically three different types of clouds: public, private, and hybrid. It's important to understand the differences between them.
In a public cloud, a third-party service provider makes computing resources (e.g., software, processing power, storage) publicly available over the Internet — for example, think about Microsoft Office 365 software. The service providers are responsible for maintaining the hardware, software, and networking equipment used to provide the computing resources.
With a private cloud, a company provides its own computing resources through its own private network. Companies sometimes set up private clouds so that employees can access certain resources from multiple locations. With this type of cloud, the company is responsible for maintaining its computing resources and its private network.
A hybrid cloud combines public cloud components with a company's existing IT components to create a unique solution. Simply connecting a server to a public cloud is not a hybrid cloud, though. In a hybrid cloud, the public cloud components and existing IT components are seamlessly integrated. For example, a hybrid cloud might enable a company to store its sensitive data on its own servers, while using a public cloud to run applications that rely on that data. As you can see, hybrid clouds can let you have the best of both worlds.
The different types of cloud services
There are many different types of cloud services, whose names are self-explanatory. Some of the popular cloud services include Software as a Service (SaaS), Infrastructure as a Service (IaaS), Platform as a Service (PaaS), and Identity Management as a Service (IdMaaS).
When deciding which cloud services to use, you need to keep your business's circumstances in mind. For example, suppose a small business has only one server that runs accounting software and several desktop computers that run Microsoft Office. In this scenario, putting the company's infrastructure in the cloud doesn't make sense. The business might consider using Office 365, though.
However, suppose that an online retailer has some Web servers that run Web applications, as well as a database server. Shoppers use the Web applications to browse through and purchase products. In the past, the Web servers crashed occasionally between Thanksgiving and Christmas due to high usage of the Web applications. The retailer did not want to buy more servers, though, because they would be underutilized most of the year. In this case, it makes sense to put the retailer's infrastructure in the cloud. That way, the retailer can simply use the flexibility of the cloud to provide more bandwidth during the months of November and December.
The next steps
Armed with knowledge about the types of clouds and cloud services, you can better determine what you want from the cloud and how to get your business ready for the cloud.
Read on in this issue to learn more about these next steps.
To learn about cloud options that will improve your organization's efficiency, access to resources, and scalability, contact Joe Wilson, Senior Sales Executive, at
303-974-7582
or by email at
Joe.wilson@arisant.com
.