Learn How to Find the Best Consultant for Your IT Project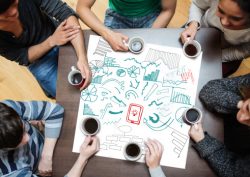 IT projects such as data integration implementations often fail because the wrong people are chosen to lead them. One of the most crucial factors for a project's success is choosing the right IT consultant.
When companies choose IT consultants, they often base their decisions on criteria such as the number of years a consulting company has been in business, the certifications the business and its employees hold, and how many clients they've helped.
Although those criteria are important, you also have to look beyond a potential consultant's resume or bio. The culture of the organization you choose is as important as any other factor. If your organization's culture is formal and requires all decisions to go through an established chain of command, you'll want a consultant that will work within those parameters.
However, if your company leaders need agility and responsiveness, want to avoid red tape, and need a consultant that will become more of an extension of your in-house team, you'll want a consultant that eliminates bulky overhead and gives you direct access to dedicated contacts.
How can you evaluate your potential partners? Consider the following:
Will your IT staff members be comfortable working on a team with the consultant? It's doubtful that the consultant will be single-handedly working on the project, so it is important to make sure that he or she will be a good fit with your IT staff.
Are the consultant's methodologies compatible with your company's operations and work culture? The practices should be well-defined and documented, including the processes and training necessary to support them.
What is the consultant's business model? For example, is the consultant trying to be a jack-of-all-trades, even offering services unrelated to IT? If so, the consultant might have the breadth but not the depth of knowledge needed to meet your company's specific needs.
Are you and the consultant on the same page as to what the deliverable will be? You need to be clear about what you want the consultant to do. For instance, do you want the consultant to just diagnose the problem and recommend a solution or do you want the person to implement it as well? Once you know what you want, make sure that the consultant knows your expectations and has the ability to meet them.
A great culture fit builds trust, mutual expertise, and efficiency into all your projects.
At Arisant, we know that choosing an IT consultant is not a decision to be taken lightly. We are not here to sell you a package of services; we aim to deliver the result you need. We will work with you to ensure the right level of involvement and the direct, committed support you require and expect.
Broad experience with multiple customers across many industries makes Arisant a valuable partner for your data integration project. Arisant's team is here to help and support you every step of the way. To learn more, contact Joe Wilson, senior sales executive, at
303-330-4065
or by email at
sales@arisant.com
.