To Build Communication, Connection, and Community, Start with Integrated Data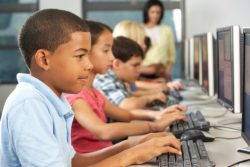 Organizations typically store a lot of data from various sources — and their users have a love-hate relationship with it. Users love it when they can access relevant information that's easy to understand. Unfortunately, when data is disparate, unclear, and conflicting, it makes everything harder. And enterprises have a lot of data; that's why they need organized data integration strategies.
Data integration combines data from various sources, cleans it up so it is useful, and makes it easily accessible to those who need it. Data integration solutions bring disparate sets of data together, making sure the data is up to date and free from errors, inconsistencies, and duplication. These systems also centralize the data, which makes it easy for people to retrieve and use it. Sharing clean data through a common, consistent source improves communication, increases efficiency, and enables informed decision-making.
Clark County: Integrated data makes a portal possible
Realizing the value of integrating data, IT leaders at the Clark County School District in Nevada are in the process of implementing a district-wide information portal. This online portal will draw from a centralized data source so educators, parents, and students will be able to access a wide variety of information at any time from any computing device.
For example, parents will have a quick, easy way to monitor their children's grades and attendance records. Students will be able to check their class schedules and school events. Educators and administrators will have access to reporting and data analysis tools so they can get the information they need to make informed decisions.
Besides getting information, district decision-makers will be able to send announcements and urgent information to educators, parents, and students through the portal's message functionality. Parents will even be able to add money to their children's lunch accounts through the portal.
Building on a solid foundation
The data integration project and portal implementation are expected to be completed in the Clark County School District in time for the coming school year, according to Devin Keays, assistant director of identity and access management (IAM) for the district. Although this is an ambitious schedule, Keays believes it is doable for two reasons.
First, the district already has a key component in the data integration system in place: a centralized IAM solution. This solution will be used to control the types of information each user will be allowed to see.
Second, the experts at Arisant are helping district personnel design and implement the data integration system.
"Arisant is an invaluable resource," says Keays. "In our next steps, we're looking at federation to connect with resources outside our network. And again, because we'll have our data clean and centralized, this process will be easier to support."
Arisant experts have been instrumental throughout all of the transformations Clark County School District is making.
Keays says, "Arisant team members are highly experienced with organizations like ours, they understand and help us comply with governance requirements, and they constantly bring collaborative and creative problem-solving to the table."
Broad experience with multiple customers across many industries makes Arisant a valuable partner for your data integration project. Arisant's team is here to help and support you every step of the way. To learn more, contact Joe Wilson, senior sales executive, at
303-330-4065
 or by email at
sales@arisant.com
.