Are You Ready for Your Move to the Cloud?
Moving to the cloud can be a huge undertaking. From security to storage and everything in between, your cloud migration could be a liability if you don't ensure you have your bases covered. From the protection you can't forego to the steps you need to take to get there, the Arisant Cloud Readiness Questionnaire will help you prepare — and offers resources for the help you need to manage it all.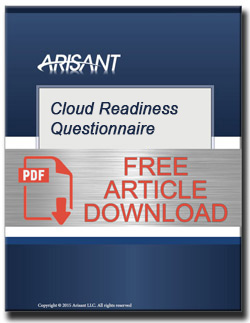 Get the article now:
Thank you for downloading Arisant's Cloud Readiness Questionnaire! When you're ready, contact the experts at
303-974-7582
or
Joe.wilson@arisant.com
for answers to all your cloud migration and management questions!Download the free article
here
.